Need some advice from the more experienced than me,,,,
Have a specci with a quantity of Quartz, looking like very crystalline gold contained, have had it in Ali brite for approx 24hrs and the small amount of ironstone has now gone,,,,
So how can I dissolve the Quartz without damaging the gold structure ???
Help please
Happy hunting
Steve, Lea and Buddy

madmav





take a pic and show us what's happenin.


_________________
Life is what you make it, always has been, always will be.

Bignuggs

Forum Admin





Hi Steve
Leave it in the Alibrite for about 2 weeks it has a small amount of hydrofluric acid in it, and thats the only stuff that will dissolve the quartz.

Cheers Jon

_________________
Goanna Gold Adventures

Jon





As John said just leave it in the Alibrite for a couple of weeks, you can do it quicker with a stronger solution of Hydrofluric but the stuff is very dangerous and best left alone.

The other thing is you say the gold in the specimen looks crystalline ?, if the structure is solid looking then you might end up with a nice piece but if the structure of the gold is broken up and more like speckled through the quartz then you will end up with just the individual grains of gold left after the quartz is disolved.

If you can put up a good pic of it then we can get a better idea of what you are working with, I have seen more than a few specimens wrecked by acid, some are best left alone.

au-fever
Will post a pic later today, this appears to more of a solid lump inside going by the weight, looks more encased but you will see by the pic later,,, 77.6g in fact
Happy hunting guys
Steve, Lea and Buddy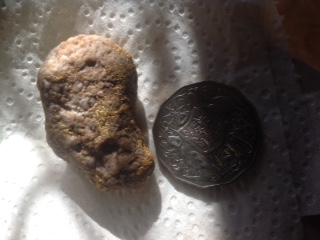 madmav





I thinks it will be a long time in acid to remove all the rock. I have 2 species in HCL now for 2 weeks and it has only done about half of the quartz and its only a 7 gram specie smaller than a 5c piece. give it enough time and replace the acid regularly and you will eventually see the gold but i would probably just smash it.

_________________
keep safe out there
Martin

martinjsto

Forum Admin





Get the dolly pot out Mav
_________________
you can live to be a hundred if you give up all the things that make you want to live to be a hundred


mulgadansa





Change the acid every 4 to 5 days with fresh stuff.


toad





Use heat and shatter the stone,and you will need heat it well.

Regards Frank
And forgot then drop in water

Regards Frank
Use of a multi meter is handy to determine whether the interlaced gold is joined together throughout the specie.



_________________
Good luck & safe travels
Peter
"Aging seems to be the only available way to live a long life."

All great ideas keep em coming guys, thanks heaps
Happy hunting
Steve, Lea and Buddy

madmav






---
Permissions in this forum:
You
cannot
reply to topics in this forum